Greg Wolske Demo Reels About Contact Links Portfolio
Film & Video Demos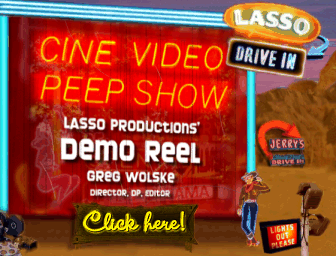 Greg Wolske is the Founder / Chief of Lasso Productions.
The Lasso Productions' Demo Reel can be viewed by
clicking the Drive-In, at left. More videos are below.
These are all in the Quicktime movie format. A flash
video of the Demo Reel can be viewed here. More
flash versions of these videos are also available on the
Lasso Productions' Youtube channel here.